Training
Improving confidence and capability of key professionals involved in supporting children's vehicle seating needs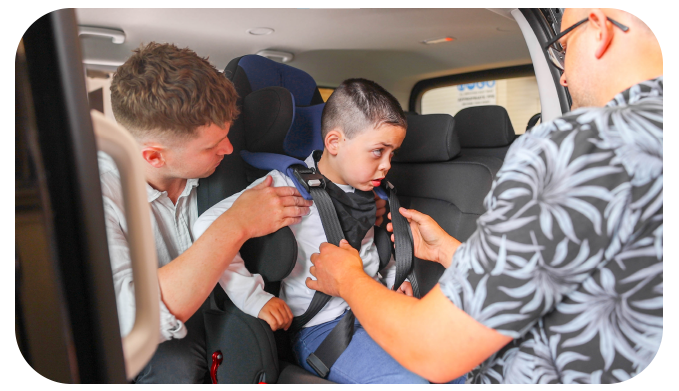 Welcome
Research shows that children with disabilities are particularly vulnerable road users. Supporting the motor vehicle transport needs of children with disabilities and medical conditions requires specialist expertise.
MACA provides online training to support the many professionals and organisations involved in this area. Learn more about our courses below.

MACA's training courses
Read more about MACA's training courses
Expert contributors
MACA'S online training courses are supported by esteemed experts in child restraint research, health, road safety, as well as leading national suppliers of car seats for children.
Samantha Hunter
Samantha Hunter is the CEO of Occupational Therapy Australia. She features in a video which explores scope of practice in the course Transporting Children with Disabilities and Medical Conditions.
Professor Lynne Bilston
Professor Lynne Bilston is a highly respected Senior Principal Research Scientist at NeuRA and Faculty of Medicine UNSW, Co-Director of the Transurban Road Safety Centre, and Chair of the Australian Standards Committee for Child Restraints in Motor Vehicles.

David Dos Reis
David Dos Reis is an experienced Lead Product Engineer in child restraint safety at Britax Childcare. In the course, he discusses the range and features of Australian standard car seats.
Warwick Teague
Associate Professor Warwick Teague is an accomplished paediatric surgeon and researcher.
As Director of the Royal Children's Hospital Trauma Services in Melbourne, Warwick oversees the emergency treatment and care of Victoria's most severely injured children.
Graham Mascull
Graham is the General Manager of Medifab, one of the largest suppliers of special purpose car seats in Australia and New Zealand. Medifab produced a video for the training course to educate participants about the unique features of special purpose car seats.
Gabby O'Neill
Gabby O'Neill is the Head of the Office of Road Safety in Australia. In the course, Gabby explores the National Road Safety Strategy and its targets to reduce road trauma.
Funded by the Australian Government Department of Social Services